Rental Horror Series: "Fooled by Mr 019 - my worst rental experience!"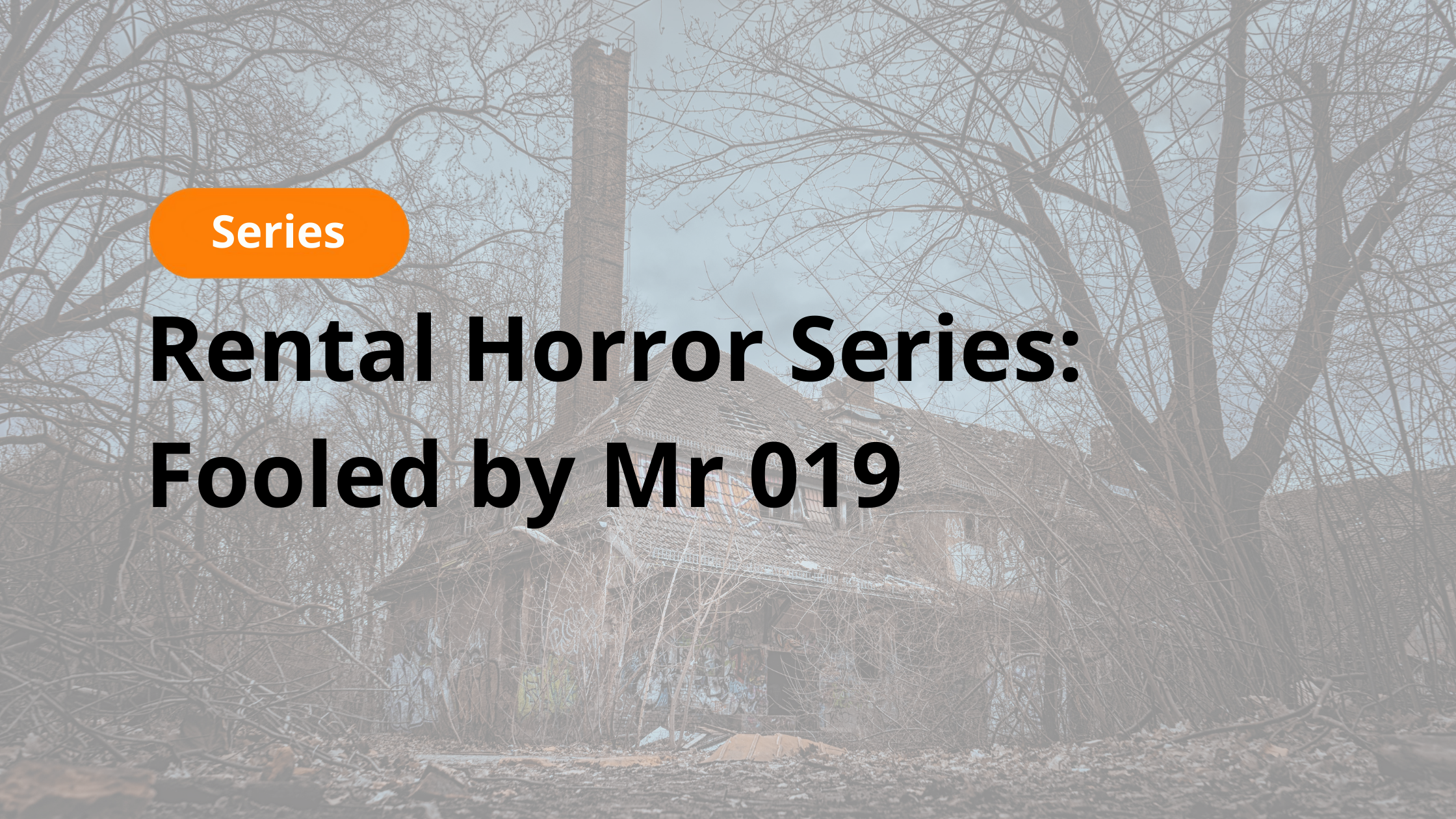 I was 23 years old when this horrifying rental experience happened. As a first-time renter, I had no idea what to expect.
I was about to start my first job at KLCC. As I wasn't a trust fund baby and couldn't afford KLCC apartments, I started hunting for cheaper apartments that were nearby LRT stations.
The Hook
One of them was a condo near Jelatek LRT station. The online pictures that I saw on various property platforms were flattering. The agents and owners I contacted assured me that and RM600 budget would land me a very decent room in the condo. Fully furnished with WiFi? What else would a person need?
There was a particularly friendly landlord, which I've named Mr 019. Why 019? Because I never learned his actual name, 019 was the first 3 digits of his phone number. You'll find out why in a bit.
The Catch
Then came the day of my viewing. I learned a lot from my short visit to the condo.
First, the condo was near multiple construction sites, and it was located right beside the main road. It was extremely dusty, and the construction noise was endless.
Second, Mr 019 was not how I expected him to be. He was pretty young and wasn't as friendly as he was on the phone. I thought that he might've had a bad day.
Third, if you haven't guessed it already, the viewing went horribly wrong.
I quickly realised that the full unit condition was quite bad and that pictures of the full unit had not been shown on purpose. Since I was a first-time renter, it didn't occur for me to ask either. The unit was poorly lit, the walls had unknown stains, and everything was really dusty.
Next was the room viewing. I watched with amazement as Mr 019 pried open the room door using his card. He said that he didn't have the key right now as the room was still occupied by someone else. I was, uh, sceptical at this point but followed him into the room.
I'm not sure what I expected at this point. Still, the room stank overwhelmingly of cigarettes, and there were yellow nicotine stains all over the ceiling. Thinking back, the online pictures never did show the ceiling conditions.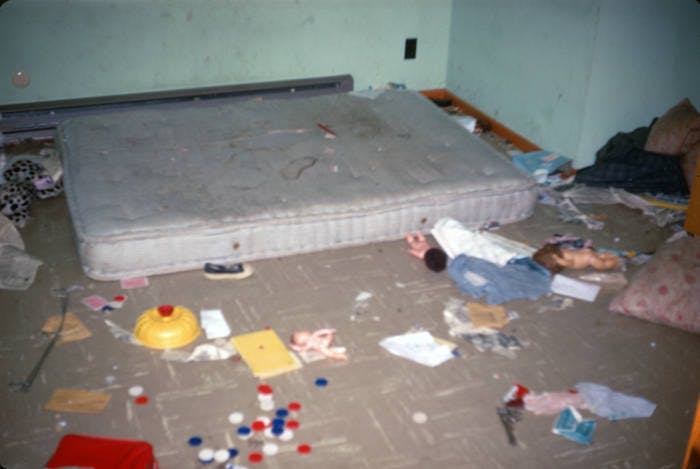 A quick look around, and I found adult magazines and hookahs lying around. There was a table (with many magazines on it), a dirty mattress on the barren floor and many unknown objects lying around. This was shocking to me, as the online pictures showed a different table and a bed with bed frames. The room layout looked similar to the images, but that's where the similarity ended.
I questioned Mr 019 about the promised furniture and why the unit was so dirty. Without missing a beat (like he's answered this before), he mentioned that the unit was not too far off from the online advertisement. If I wanted new furniture, I could always bring my own. As for the unit condition, he simply advised me to close the windows when I moved in as the construction sites and the main road were causing it.
The Fool
I stopped my questions right there and then. The unit condition, the forced entry, and the room's dirtiness – it was all too much for me. I was alone, feeling unsafe and just wanted to be somewhere else.
I thanked Mr 019 for his time and quickly left the condo. I never did reply to Mr 019 after that, even when he followed up on my decision.
All in all, the viewing lasted 15 minutes, and it was without a doubt the worst viewing experience I had. I wouldn't wish this to happen to anyone! - Andrew ('28).
--------------------------------------------
We love talking to our users! The story above was submitted by one of our real-life tenants. If you have any interesting or horrifying rental experiences, we would love to hear from you at jason@instahome.com or on any of our social media accounts!
So how do you avoid being fooled like Andrew?
When searching for rental homes online, it is impossible to tell whether a listing is real or fake based on the pictures online. If you see one of the disclaimers below, there is a high chance that this is a …… fake listing. 


Here at Instahome, we understand that first-time renters often do not know what to look out for. With our >100 years of collective rental experience, here are our tips and tricks to help you to avoid Andrew's situation! 
--------------------------------------------
#Tip 1: Use key questions to navigate through your search journey 
As a first time renter, you might go down the rabbit hole to search and visit ALL of the listings available, taking up a lot of time and effort. Here, we advise you to ask yourself these questions: 
"What is my maximum budget?"
"Do I need Public Transport?"
"Do I want to live in an apartment, condominium or landed home?"
"Do I need a fully furnished home, if so, with what furniture?" 
After this, you can use the 'Filter' function on most property websites to cut down on search results. This step can help you save tons of time!
Next,  you should check out the Furnishings, Facilities and House Rules. This helps to answer your other vital questions, such as if the home includes WiFi, AC, Washing Machines, allows cooking; or if the condo has a swimming pool.
At instahome.com, every listing is verified by our Instabuddies. We follow a 100-point inspection checklist for all of our rental homes - every furniture we display on our listings IS what you get. When you see the actual home, you WILL see a functioning AC, Refrigerator, Shower, Bed, Bathtub, and everything that is listed on instahome.com 🤩 
Key Takeaway 1: Ask yourself key rental questions, remember to filter out the homes you don't want and read through the home details before scheduling a viewing.
--------------------------------------------
#Tip 2: Request for video or 360 virtual tours of the home 
It is definitely tricky to get a sense of what a home really looks like from just pictures. With videos and virtual viewings, you get to see the home beyond fixed frame photographs. While videos capture more details than photographs, virtual tours are ultimately the best tool if you're looking to find a suitable home effectively. 
A 360 virtual tour enables you to have an ultra-dynamic feel of the home without actually visiting the location. 
At Instahome, our virtual tours are taken by our team of professional videographers. We follow a rigid procedure for photographing homes to make sure you can see each and every corner of our homes. Virtual tours are a great way to save time! You can view multiple homes online to find out your top picks!
Key Takeaway 2: No more blind spots! Using Virtual Tour gives you a dynamic overview of the home's condition and saves on inspection time. 
--------------------------------------------
#Tip 3: Make sure you are safe during viewing
Safety is a big concern to all renters, so how do you protect yourself during a viewing? 
Having companions during viewing - 
Bringing a friend or family member to a physical viewing is always a good idea. However, it is sometimes challenging to match your schedule with the agent/landlord, friend, and yours. 🤯
If you have to go alone, make sure you inform family members/friends of where you are and when the viewing is supposed to end.
At instahome.com, we have professionally trained Instabuddies dedicated to accompanying you during viewings! 🙎🏻‍♀️ Instabuddies are a team of enthusiastic rental heroes that personally visit, check and photograph every single home. They will know everything about the home and provide you with detailed information during the viewing! Here is a picture of our friendly Instabuddies!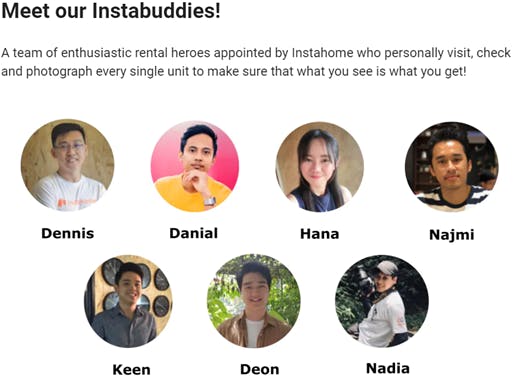 Key Takeaway 3: Have an (Insta)buddy accompany you during the viewing!
--------------------------------------------
We sincerely hope that newbie renters don't experience such horrifying experiences as Andrew's. Don't get fooled on April Fools!
Follow https://instahome.com/ for the new way to rent 🏡 
Another rental horror stories maybe: Rental Horror Series: "April Short Story Collection