MCO 3.0 Interstate Travel
[This article is outdated. Read our most recent guide on Malaysia's interstate and international travel here]
At this point, you're probably lost with government announcements on MCO 3.0….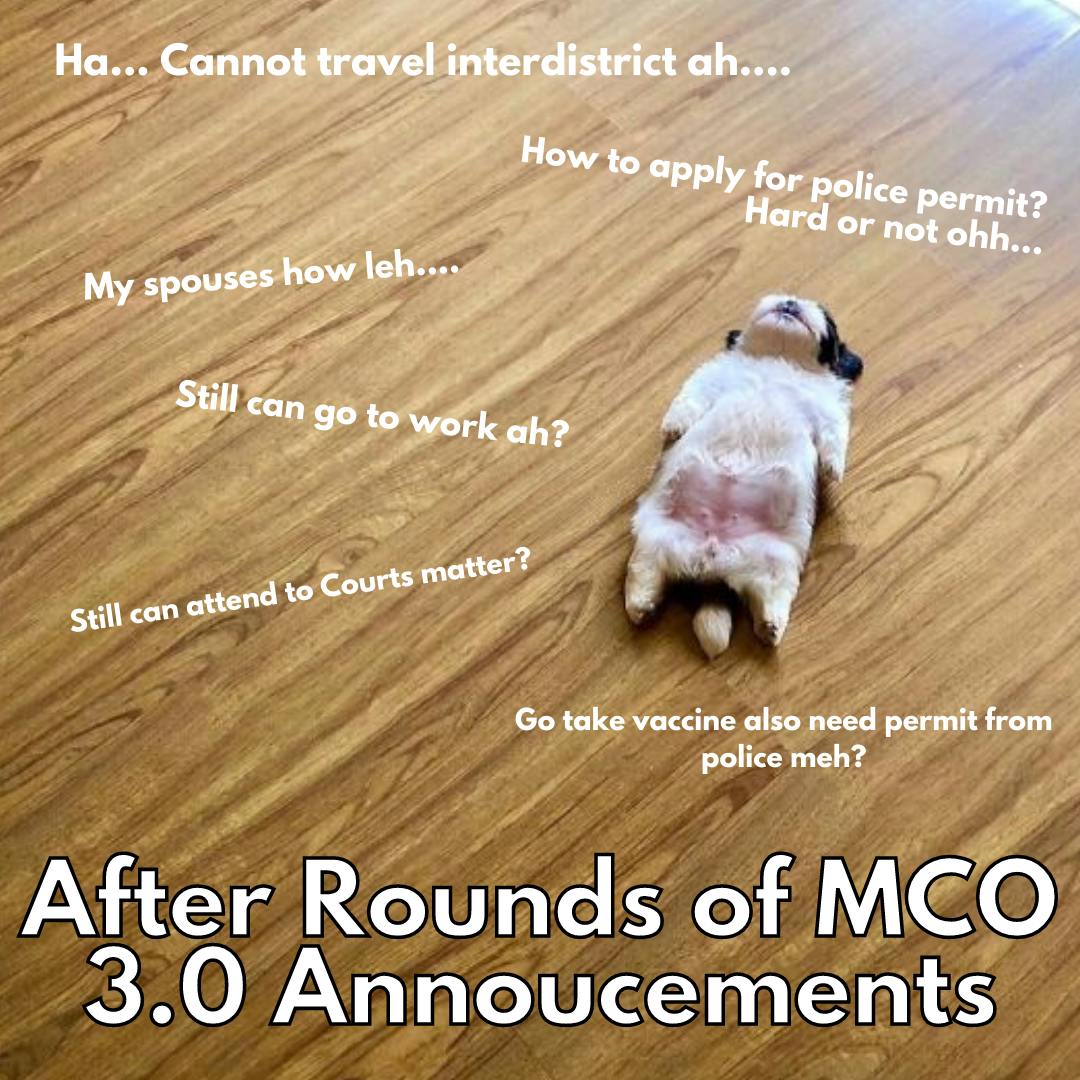 Though in general, interstate travel is not permitted, there are some leniencies given by the government where some exceptional cases will be considered and approved. We have compiled a list of approved interstate reasons, effective 6 May 2021 below.
You don't need police permit for the following interstate travel reasons:
1. Work purposes
To show MITI (Ministry of International Trade and Industry) letter from employer and any other relevant documents.
2. Essential services
Communication, utilities courier etc
3. Transportation industry
Public transport, food deliveries (with licence) etc
4. For Medical purposes
Vaccination, check-ups, health screening etc. To show appointment letters & relevant documents.
5. Education
To show an approval letter from KPM (Kementerian Pendidikan Malaysia / Ministry of Education) and KPT (Kementerian Pengajian Tinggi / Ministry of Higher Education) for a teacher/ lecturer / educational provider who would need to travel to University / College/ School.
6. Back to University / College/ School
To show approval letter from KPM/ KPT/ IPT (Institusi Pendidikan Tinggi / Higher Educational Institutions) to the authorities, including traveling home for Hari Raya 2021
7. Return to residence after quarantine or isolation
To show authorities evidence that you have completed the mandatory quarantine/ isolation, including quarantine release letter.
8. International Examination
To show relevant authorities your examination slip or documents.
9. Job Interview
To show relevant authorities official interview invitation by employer
10.  Court Matters
To show relevant authorities with subpoena/ documents issued by the court
11.   Logistic and supply chain
Subject to vehicle registration license. 
But you do need police permit for the following:
1. Long distance married couple
To show IC of spouses, marriage certificate/ birth cert, letter from employer, letter from MITI etc.
2. Flights
To show flight tickets and relevant documents to back up reasons for travelling.
3. Move House
To show personal covid test report, JIMB approval for condominium, move-in time and restrictions with the condo,and movers' covid test report (optional).
To apply for police permit:
You'll need to pay a visit to your nearest police office and prepare 2 copies of documents stated below:
IC/ Passport 
Relevant documents 
Interstate travel form 
Click here to download the Interstate travel form.
The overall process for submitting and getting approval should take you less than 5 minutes if you have all the documents handy. Make sure to adhere to the limit set by authorities on vehicle capacity (private car/ e-hailing max. 3 passengers, including driver) and to not travel unless needed to. 
Need to move in to a new home or need to find a new home? Are you unsure on what you can do or cannot do in MCO 3.0? 
Instahome is here to help!
All the homes on our platform are checked by our team, so they are 100% real and what you see is what you get. Read about how we check our properties here. 
Want to view the home in person? Contact us now with the link of a home that you like, and we will be happy to help you through the entire process. 
Stay home, and stay safe everyone! #KitaJagaKita #MCO3.0 #PoliceInterstatePermit
Effective as of 6th May 2021. Last Updated 12 May 2021.
Staying with roommates during MCO? You might need to check this article out.